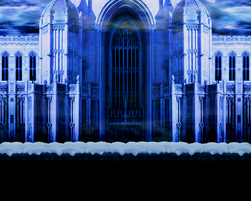 The Snow Chapel is the setting for the opening stage of Rosenkreuzstilette ~Freudenstachel~'s C75 Trial, which can only be accessed through hacking. It takes the player through a blue chapel covered in snow. The Chapel serves as a prototype for Castle Grounds, the opening stage in the final version of the game.
Stage Information
Stage Enemies
Trivia
The boss room at the end of the stage is just blank with a black background.
Several backgrounds and tiles in the Snow Chapel were used for the castle grounds in later versions of the game.
Locations and Stages in the Rosenkreuzstilette series