Notice: While the subject of this article or section is canon, it has no official name and a placeholder fan name is used.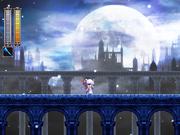 The grounds of Zeppelin's Castle are the setting for the Opening Stage in Rosenkreuzstilette Freudenstachel. The stage takes the player across a bridge, through several hallways as well as a corridor in the air, and even into the castle garden where Eifer Skute (or Freudia Neuwahl if playing as Pamela Arwig) awaits her.
Stage Information
Stage Titles
In der schneenacht (At the Snow Night)
Rosenkreuzstilette ~Weißsilber~: Ein adliges Madchen (An Aristocratic Girl)
Stage Music
Stage Theme (C76 Trial): "The Ground Which Can Shine" by Silver Chaos
Stage Theme (Web Trial/Full Game): "Fate" by Silver Chaos
Dialogue Theme (Eifer/Freudia): "Winter Waltz" by Sky God Corridor
Dialogue Theme (Pamela): "Brawl of the Princess" by RP-MUSIC
Dialogue Theme (Strudel): "Labyrinth" by Unlimited Hellest
Stage Enemies
Stage Boss
Gallery
Trivia
The castle grounds are located near Michael Zeppelin's castle itself. That explains why the stage has the castle in several of its backgrounds. Another location also set near the castle is the Ghost Town.
The Snow Chapel served as a prototype for the castle grounds in the C75 Trial Version. Backgrounds and tiles from said area were used to create this stage for the C76 Trial/Web Trial/Full Version of the game.
The early version of Castle Grounds in C76/early Web Trial versions is ported back to the Steam version of Rosenkreuzstilette Freudenstachel as a special bonus feature that can be activated/deactivated.
Locations and Stages in the Rosenkreuzstilette series